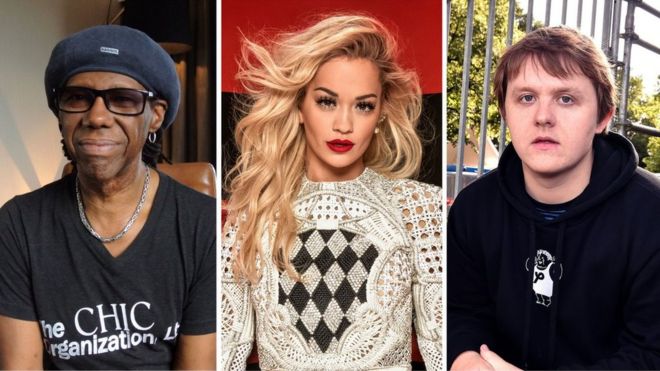 Plus de 700 personnes, artistes, auteurs-compositeurs, producteurs, directeurs, labels, producteurs et entreprises de l'industrie musicale britannique ont écrit cette lettre ouverte appelant à la fin du racisme, à la suite des attaques en ligne de Wiley contre les juifs.
Nous, représentants de l'industrie de la musique, écrivons pour démontrer et exprimer notre détermination, que l'amour, l'unité et l'amitié, et non la division et la haine, doivent et seront toujours notre cause commune.
Au cours des derniers mois, à travers une série d'événements et d'incidents, les racistes et antisémites anti-noirs, ainsi que ceux qui prônent l'islamophobie, la xénophobie, l'homophobie et la transphobie, ont démontré à plusieurs reprises qu'ils veulent clairement que nous échouions tous. Que ce soit le racisme systémique et l'inégalité raciale mis en évidence par la brutalité policière continue en Amérique ou le racisme anti-juif promulgué par des attaques en ligne, le résultat est le même: suspicion, haine et division. Nous sommes au pire lorsque nous nous attaquons les uns les autres.
Des minorités de tous horizons et de toutes confessions ont lutté et souffert. De l'esclavage à l'Holocauste, nous avons des souvenirs collectifs douloureux. Toutes les formes de racisme ont les mêmes racines – ignorance, manque d'éducation et bouc émissaire. Nous, l'industrie de la musique britannique, nous unissons fièrement pour amplifier nos voix, pour assumer nos responsabilités, pour nous exprimer et nous solidariser. Le silence n'est pas une option.
Il existe un amour global pour la musique, indépendamment de la race, de la religion, de la sexualité et du sexe. La musique apporte joie et espoir et nous relie tous. Grâce à la musique, à l'éducation et à l'empathie, nous pouvons trouver l'unité. Nous sommes unis pour éduquer et éliminer le racisme maintenant et pour nos générations futures.
Co-signé:
ARTISTES
220 Kid
aboutagirl
ADP
Ady Suleiman
AG Cook
Alan et Stevie Jukes (Saint PHNX)
Alex James
Alexandra Burke
Anais
Andy Taylor (Duran Duran)
Arca
Arlo Parks
Ashnikko
Be Charlotte
Becky Hill
Ben Fletcher (Aquilo)
Beren Olivia
Biffy Clyro
Big Wild
Blane Muse
Bondax
Né Dirty
Bree Runway
BRONSON
Bruno Major
Callum Scott
Camden Cox
Camelphat
Cameron Edwards (Sigma)
Cedric Gervais
Cherise Adams-Burnett
Circa Waves
Clean Bandit
Col3trane
Colin MacLeod
Collard
Cortney Dixon
Crystal Fighters
Daniel Briskin
Danny Seth
Deaf Havana
Digital Farm Animals
Diives
DJ Fresh
DJ Yoda
Dougie Poynter (McFly)
Duke Dumont
Dylan
Echo Machine
Ego Ella-May
Ella Eyre
Elohim
Enamour
Erika Sirola
Eva Lazarus
Eyelar
FARR
Freddie Long
Frida Touray (danseuse autochtone)
Geordan Reid-Campbell
George Pelham
Goldie
Grace Carter
Hannah Diamond
Havelock
Hayden James
Holly Humberstone
HRVY
Ina Wroldsen
Poupée ivoirienne
Jacob Banks
Jade Thirlwall (Little Mix)
Jalle
James Arthur
James Blunt
James Vickery
Jamz Supernova
Javeon
Jay Pryor
JC Stewart
Jess Glynne
Jesy Nelson (Little Mix)
Joel Culpepper
Joe Hertz
Joel Bailey (Baely)
John Newman
Jonas Blue
Josef Salvat
Josh Barry
Josie Mann
Joy Crookes
Juge Jules
Kelvin Swaby (The Heavy)
Krishane
Kudu Blue
Kwabs
Kyle Falconer
Labrinth
Laura White
Leigh-Anne Pinnock (Little Mix)
Leona Lewis
Lewis Capaldi
Lily Allen
Linden Jay
Louisa Johnson
Love Harder
Mabel
Marlon Roudette
Maths Time Joy
Maisie Peters
Mette Narrative
MNEK
NAO
Naughty Boy
Niall Horan
Nile Rodgers
ODESZA
Oh Wonder
Olly Murs
Oscar Scheller
PAV4N (Étranger) Beggars)
Perrie Edwards (Little Mix)
PLACEBO
Prstn
carrière
Raissa
Raleigh Ritchie
réel comme vous
Reiley
Rejjie Snow
Respons
Reuben James
Richie Sambora
Rita Ora
Romderful
Rose Grey
RuthAnne
Sad Night Dynamite
Saul Milton (Chase & Status)
SG Lewis
Shift K3y
Shola Ama
Sinead Harnett
Sondr
Sophia Alexa
Sophie Faith
Équipe sportive
Swindle
TĀLĀ
Tara Lee
The 1975
Thomas Farnon
Tiffany Calver
Tinx
Tkay Maidza
Tom Fleming (One True Pairing / Wild Beasts)
Tom Higham (Aquilo)
Tom Misch
Tom Walker
Tora
TS Graye
Two Door Cinema Club
Violet Skies
Westlife
Wuh Oh
Années et années
Yungblud
Zach Témoin
Zak Abel
SONGWRITERS & PRODUCERS
Adam Midgley
Amanda Ghost
Andrew Bullimore
Andrew Jackson
Autumn Rowe
Ayak
Bridgette Amofah
Bryn Christopher
Cass Lowe
Cleo Tighe
Darren Lewis & Tunde Babalola (Future Cut)
Dominic Hammond
Duncan Boyce
Earl Saga
Emily Philips
Frank Colucci
Fred Gibson
George Astasio (Invisible Men)
George Tizzard (triangle rouge)
Glen Roberts
Goldfingers
GRADES
Hakon Guoni
Hannah V
Harleymoon Kemp
Iain James
Jack Ormandy
Jacob Manson
James Newman
Jamie Scott
Jason Pebworth (Invisible Men)
Jimmy Napes
Joe Rubel
Joe Warriner
Jon Green
Jon Shave (Invisible Men)
Jonny Coffer
Kamille
KIN
King Ed
LOXE
Lucy Lu (Luke Bower)
Mac & Phil
Maestro 'The Baker'
Mark Ralph
Martin Terefe
Matt Zara
Matty Schwartz
Mustafa Omer et James Murray (Mojam)
Neil Ormandy
Nick Gale
Ollie Green
Owen Cutts
Paul Epworth
Pete Rycroft (Lostboy)
Phil Plested
Phil Simmonds
Prash Mistry (Engine Earz)
Richard Boardman
Rick Parkhouse (Triangle Rouge)
Romeo Testa
Sam Roman (Romains)
Sillkey
Simba Manjonjori
Sunny Berhane
Les Six
TMS
Tom Mann
Tre Jean-Marie
Tylr Rydr
Wayne Hector
Wez Clarke
Will Simms
Xandr Fox
MANAGERS, LABELS + EDITEURS, AVOCATS, AGENTS, LIVE, PROMOTIONS ++
Aaron Horn
Aaron Ross
Adam Webb
Adele Roberts
Alasdair George
Alastair Kinross
Alex Bruford
Alex Gibson
Alex Kassner
Alex Martin
Alex Sparks
Alex Wall
Alex Weston
Alexis Goldstein
Ali Golembo
Alice Vaughn
Alistair Goldsmith
Amanda Maxwell
Amber Davis
Amelia Scivier
Andy Daniell
Andy Heath
Andy McPhail
Andy Wells
Andy Varley
Angelika Ali
Angus Blair
Angus Blue
Anna Gregorek
Annabella Coldrick
Anthony Orum
Anton Partridge
Anton Powers
Anya Du Sauzay
Anya Jones
Archie Lamb
Ashley Sykes
Barney Crockford
Barry Blue
Barry Burt
Barry Dickins
Becky Tong
Ben Blackburn
Ben Bodie
Ben Coles
Ben Mortimer
Ben Skerrit
Benjamin Parmar
Bernadette Barrett
Betsy Chadbourn
Bilge Morden
Blair Dreelan
Bobby Havens
Briony Turner
Callum Ross
Cameron Petschi
Carol Crabtree
Catalina Wrye
Cerne Canning
Charles Goldstuck
Charlie Arme
Charlie Lycett
Charlie Small
Charlie Wedd
Charlotte Caleb
Chimene Mantori
Chloe Roberts
Chris Dempsey
Christian Tattersfield
Claire Reilly
Claudia Piazza
Colette Goodfellow
Colin Batsa
Colin Lester
Conrad Murray
Dakota Hoven
Damian Collier
Damien Yare
Dan Chalmers
Dan Edu
Dani Sawyerr
Daniel Bearman
Daniel Seal
Daniel Miller
Daniel Parmar
Daniel Tuffin
Danielle Livesey
Danny D
Danny Desai
Danny Horsfield
Darcus Beese OBE
Darren Michaelson
Dave Rowe
Dave Rowett
David Ball
David Bianchi
David Gray
David Kassner
David Martin
David Olusegun
David Rowe
David Rowntree
David Stopps
David Ventura
Davide Venti
Dennis Muirhead
Derek Amedume
Desmond Agyekumhene
Diane Wagg
Dipesh Parmar
Don Jenkins
Dumi Oburota
Duncan Murray
Howard
Ed Millett
Ed Pearson
Elena Sahatciu
Elias Christidis
Ellie Giles
Ellison Abbott
Emily Cameron
Emily Kent
Emma Banks
Emma Greengrass
Emma Harding
Emmanuel de Buretel
Emmanuel Okello
Emmanuel Olowojoba
Emmet pouvoir
Eric Bielsa
Erik Nielsen
Estelle Wilkinson
Eve Barlow
Fawaz Al-Jabban
Fin Kemp
Fiona McAuley
Fiona McGugan
Gabz Landman
Gary Mandel
Gary McClarnan
Geoff Taylor
George Baker
George Baker
George Corton
George Shepherd
Georgina Fennessy
Giaco Bridget
Gilbert Johnson
Giovanni Damiani
Grace Ladoja MBE
Graham Phipps
Greg Burnell
Greg O'Donoghue
Greg Parmley
Griff Harding
Guy Moot
Hamish Harris
Hannah Joseph
Hannan Malik
Harri Davies
Harry Magee
Hayley Marchant
Helena Antoniades
Henry Sansom
Henry Village
Hiten Bharadia
Hiroki Shirasuka
Howard Corner
Iain Watt
Ian McAndrew
Ian Pither
Inde Allen
İpek Özsoy
Isabel Garvey
Isobel Williams
Jack Pates
Jackie Davidson
Jacqueline 'JPL' Pelham- Leigh
James Gaster
James Harwood
James Horn-Smith
James Lightfoot
James Sandom
James Sealey
Jamie Binns
Jamie Oborne
Jamie Shaughnessy
Jamie Skinner
Jamila Scott
Jason Coker
Jason Sharpe
Jazz Rocket
Jazz Sherman
Jennifer Ivory
Jess Munro
Jesse McNamara
Jevan Levy
Jo Charrington
Jo Hart
Jo Howarth
Joe Barbe
Joe Gossa
Joe Iddison
Joe Munns
Joe Taylor
John Dawkins
John Giddings
John Glover
John Statham
John Woolf
Jon Barlow
Jon Ollier
Jonny Martin
Jonny Petch
Jordan Buck
Jordan Jay
Josh Brandon
Josh Sanger
Jules O'Riordan
Junior Foster
Kanya King CBE
Kate Ramos
Keith Harris OBE
Kerry Harvey Piper
Kevin Christian-Blair
Kim Frankiewicz
Laura Arowolo
Laura Kelly
Laura Monks
Lauren Hales
Lauren Mckee
Lene Bausager
Levi Jackson
Liam Alt
Lily Crockford
Liza Buddy
Lloyd Murray
Loretta Andrews
Louie John Lowis
Louis Bloom
Louis Walsh
Louisa Morris
Lucy Fletcher
Luke Allen
Luke Brookner
Luke Smith
Luke Williams
Maddy Valder
Marc Connor
Marc Fineman
Marc Sheinman
Marc Thomas
Marissa Rodney
Mark Ellwood
Mark Gillespie
Mark Krais
Mark Lewis
Mark Mitchell
Markell Casey
Martha Kinn
Martin Goldschmidt
Martin Toher
Matt Bates
Matt Chalk
Matt Johnson
Matt Vines
Max Bloom
Max Lousada
Max Necus
Maya Doron
Megan Mahoney
Merck Mercuriadis
Methe Buhl
Michael Adex
Michael Harwood
Michael Lambert
Michelle Duffy
Mike Ajayi
Mike Dewdney
Mike Grec
Mike McCormack
Molly Rainford
Morad Khokar
Neale Easterby
Neil Eagleton
Neil Hughes
Nick Burgess
Nick Huggett
Nick Myers
Nick Raphael
Nick Robinson
Nick Shymansky
Nicky Kelvin
Nicky Stein
Nigel Harding
Nihal Arthanayake
Nike Durosaro
Nina Mistry
Olivia Edwards Allan
Olivia Hobbs
Ollie Isaacs
Patrick Lemanski
Patrick Spinks
Paul Burger
Paul Centellas
Paul Craig
Paul Crockford
Paul Harris
Paul Hitchman
Paul Kennedy
Paul Lennon
Paul McQueen
Paul Pacifico
Paul Samuels
Paul Smith
Paul Spraggon
Paul Trueman
Pete Simmons
Peter Breeden
Phil Christie
Phil Morais
Phoebe Spencer
Professeur Jonathan Shalit OBE
Rak Sangvhi
Ray Black
Raye Cosbert
Rebecca Allen
Reju Sharma
Rene Renner
Rhian Emanuel
Rich Perry
Richard A Ramsey
Richard Baskind
Richard Day
Richard Griffiths
Richard Hinkley
Richard Hoare
Richard Wilson
Rick Moreno
Rick Morton
Rob Challice
Rob Dickins CBE
Rob Swaden
Robert Swerdlow
Roberto Neri
Rod McSween
Roman Trystram
Ros Earls
Ross Gautreau
Russell Eslamifar
Russell Warby
Ryan Lofthouse
Ryan Walter
Sam Lowe
Sam Meghan
Sam Tucker
Sammy Andrews
Sarah Brooksbank
Sarah Haycox
Sarah Jackson
Sarah Lipman
Sarah Lockhart
Sarah Stennett
Saul Fitton
Scott Jason
Sean Corbett
Seb Foux
Shabs Jobanputra
Shane Gillen
Simon Barnabas
King
Sonia Diwan
Sonny Takhar
Sophia Humphreys
Sophia Kearney
Sophia Wardman
Sophie Bloggs
Sophie Dorrington
Sophie Lobl
Sophie Urquhart
Stephen Budd
Stephen Kempner
Stephen O'Reilly
Stephen Taverner
Steph Whitehead
Steve Levine
Steve Satterhwaite
Steve Zapp
Steven Braines
Stuart Camp
Sumit Bothra
Talya Shalson
Tania Margolin
Tanyel Vahdettin
Tash Brooks
Tess Bjiere
Thomas Oakley
Tim Blacksmith
Tim Clark
Tim Major
Tim Wilde
Tirian Steele
Todd Interland
Tom Aldridge
Tom Burris
Tom Cater
Tom Kiehl
Tom Lewis
Tom March
Tom Oakley
Tom Watson
Tommas Arnby
Tommo Greer
Tony Garvey
Tony Harlow
Tracey Fox
Trenton Harrison-Lewis
Trevor Horn
Tyler Brown
Vanessa Mahi
Vicky Dowdall
Victor Aroldoss
Victoria Wood
Vikki Josephs
Virginia Lee
Will Bloomfield
William Booth
Wolfgang Boss
Xavier Benoit
Xylo Aria
Yasmin Lajoie
Zack Gold
ORGANES DE COMMERCE, ENTREPRISES
1 2 One Entertainment
13 Artistes
37º
3Beat
4ncurrency
Abbey Road Studios
ADA
AIM
Asgard
Association for Electronic Music
ATC Live
ATC Management
Atlantic UK
B1 Recordings
B Unique
Because Music
Beggars Group
Bigger Picture
Blackstar London
BPI
Brownswood
CAA
Capitol Records UK
Chosen People
Chromium Groupe de musique
Artistes plus proches
Concord
Crockford Management
Decca Records
Deluxxe Management
Dirty Hit
Domino
Downtown Music Holdings UK
Driift
Eastside Music Publishing
Electric Pineapple Music Group
Eleven Management et tous les artistes représentés par eux
EMI Records
Allbody's
Featured Artist Coalition
FINE Group
First Access Entertainment
Fulwell Productions
Giant Artist Management
Globe Town Records
Good Soldier
he.they
Hospital Records
ICM Partners
ie: musique
Ignition Management
ILMC
IQ Magazine
Island Records UK
ITB
Ivors Academy
Karma Artists
Gestion latérale
Liquid Management
Little Big
London Records
Management 16
Metallic Inc
Music Against Racism
Music Producers Guild
Music Production for Women (MPW)
Music Publishers Association
Mute Artists
Ninja Tune
Palm Artists
Paradigm Agency
Parlophone Records
Partisan Records
Please management
Polydor
Primary Talent
Progressive Artists
Prolifica
Q Prime
Raw Kingdom
Red Light Management
Rhino
Fondation Rio Ferdinand
Riverman Management
Rockstar Management
Secretly Group
Seven 7 Management
Shoffy J Designs
Snapper Music
Solar Management
Solo
Sony / ATV Music Publishing UK
Sony Music UK Musique
spécifique
TaP Music
The MMF
The Weird and The Wonderful
UKMusic
UMC
UMOD
Universal Music UK
Universal Music Publishing UK
Urok Management
UTA
Warner Chappell Music UK
Warner Classics
Warner Music UK
Warner Records UK
We Generate
Women in CTRL
X-Ray Touring
YM&U Music
Young Turks
K7 Music
Il y a des noms sérieux sur cette liste.
Vous savez quel nom n'y figure pas ?
Roger Waters, qui prétend s'opposer à l'antisémitisme, bien qu'il ait lui-même fait des déclarations plutôt antisémites .
En fait, Waters a été étrangement calme pendant toute cette vague de haine des Juifs de la part de célébrités comme Wiley….